One of the most important secrets to having a wonderful home is paying attention to the bathroom. It is vital to have a comfortable, clean, aesthetically pleasing, and functional one. Is there any bathroom remodel ideas on a budget? The answer is yes. Bathroom renovation is not the most affordable activity; however, there are secret ways to remodel beautifully and on a budget at the same time. Before starting to think about what to do, one should find a reliable team with renovation services.
Plenty of people think they may spend less money if they complete the bathroom renovation themselves. Even though it may be a great idea, the cost may get really high in this case. Thus, the process will become enjoyable if you find specialists who are professionals in bathroom remodeling.
1. Change the Walls and Floors
The first step must be changing the base of the bathroom. In case of problems with the walls or the floor, this is the time to fix all those. For example, there may be cracks or damage, or the tiles have gotten old and need an update. In any case, this is the first step to beginning the bathroom renovation.
When it comes to walls, the price begins at 2.5 USD per square foot. One of the lowest budget options is ceramics. However, slates and granite do not vary significantly in price. The cost for those is within the range of 3-8 USD.
Now floor tile installation will cost a bit higher. The reason is that the ground tiles are thicker than the wall ones and need to protect them from water and heat damage. However, there are bathroom flooring ideas on a budget that is also secure. For example, ceramic tiles are affordable, but they do not protect well. Whereas porcelain ones are not only high resistance but also stylish. Their price ranges from three to ten USD per square foot. Experts recommend these during bathroom renovations.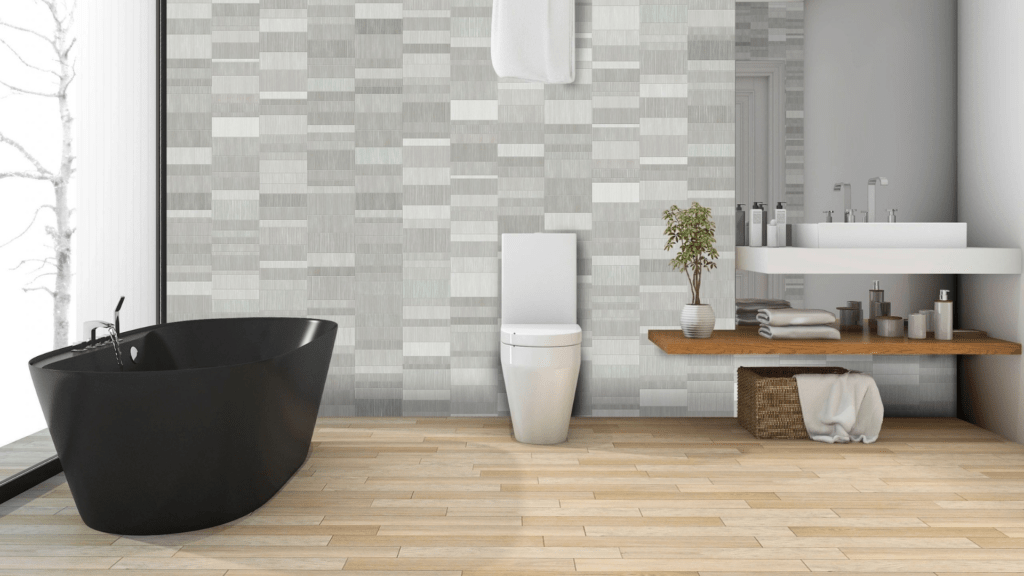 2. Change Bathroom Fixtures/ Vanities
The next step is to make sure that the bathroom has a functional and high-quality sink, shower, toilet, and other features. The most important part of this step is to remember that the bathroom renovation needs to make it comfortable. Therefore, besides looking nice, you should think about how practical they are.
One of the cheapest and easiest methods is to get a plain countertop and fancy it up with decorations. Some great bathroom decorating ideas on a budget are plants, jewelry boxes, soap containers, and other details. The most affordable countertop is granite. Its price is a minimum of 35 USD per square foot. However, if one wants a classic bathroom renovation, then it is possible with marble. This way it will be more expensive than granite, with around 5 USD higher cost per square foot.
Toilets can get expensive based on their functionality and comfort. Some types change the seat, have extra cozy protection, high durability, and other benefits. However, low-cost toilets are around 100 USD. The best option would be to get a toilet in a neutral color (white). It will look simple and modern at the same time.
Replacing/ Installing a Bathtub or a Shower
Depending on whether you want to install a bathtub or shower, the price will differ. A bathtub is more affordable than a shower but less practical. Bathtub prices range from 800 USD up to 5,000 USD. Meanwhile, shower prices are from a couple thousand up to almost 10,000 USD. Besides, it is always possible to install a shower handle inside a bathtub. They cost from 150 to a couple of hundreds of dollars.
Another vital part of a bathroom renovation is installing a sink or repairing the old one if it has issues. Sinks always tend to clog and cause problems; it is crucial to fix those during a bathroom remodeling process. Sink prices begin from a couple of hundred dollars while repairing almost costs the same. Thus, sometimes it is more affordable and practical to replace it instead of fixing it.
Install a Shelf and add details
Installing a shelf or additional details is an optional decision. It isn't a requirement to have a shelf in a bathroom. However, it is a great place to keep towels, hygiene products, and equipment. Additionally, shelves provide extra space for decorating, for example, plants can be a good idea as they are very affordable and pleasant at the same time.
Another detail that is a must to add after renovation is towel hangers, which can cost 10 to 30 USD but can save space and make the bathroom tidy.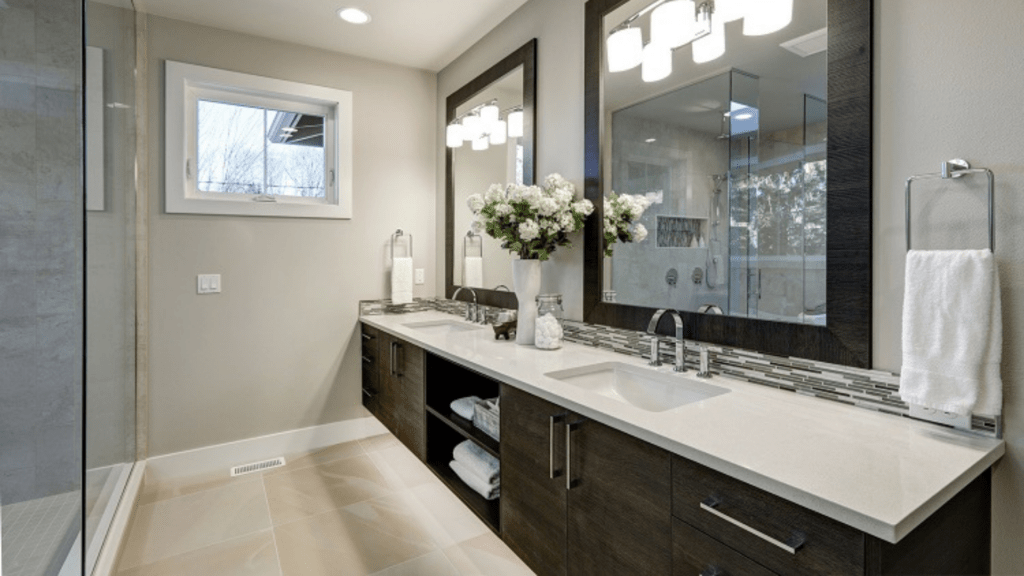 3. Instead of Replacing – Repaint
Sometimes bathroom renovations can get expensive, which is why it is vital to save some money. Getting new vanities and necessary items is the right place to spend money. However, sometimes it is the most efficient to repaint instead of replacing. For example, if the bathroom already has a shelf, recoloring it could refresh the look. All white is always a great idea. Besides, it may not need more than repainting the walls.
4. Mirrors are Important Accessories
As for decorations, there are small items that can improve the overall appearance at the same time, for instance, a mirror with a wooden frame or simply an all-glass one. It can give the bathroom a style and depending on the size, it can change the aesthetics/design. One of the options to add modern elements is decorating with something around it, like adding plants on the wall.
5. Lighting Makes the Rest Look Amazing
All of the mentioned tips lead to one of the most significant bathroom renovations. You should keep in mind that bathroom lighting matters, so another great idea could be adding lights. LED lights are the most energy-efficient and affordable options to consider. These lights can be around the mirror, which is very useful. Lighting can also be in the shower with different shades.
Bathroom renovation can be costly, however, while following the general tips the cost can be reduced considerably. There are more ideas one can do during a bathroom remodeling, however, it is vital to remember that you need to find an experienced contractor to complete everything professionally and make the process affordable.