Transforming the property with affordable landscaping is one of the major secrets to increasing house value. Landscaping itself sounds like a complicated task, however, the following steps will boost the property price largely. Especially, there are specific changes that can increase the overall value. United Field Services Inc. will provide a guaranteed guide for increasing property value with the help of landscaping ideas on a budget.
1. An affordable landscaping idea is building a fence
Having a fence can play a huge role in increasing property value, however, it greatly depends on its condition. There are different options that will not require a big budget but can significantly improve the property's appearance.
One of the cheapest types of fences is wooden ones. There are other benefits other than affordability; according to specialists wood is also environment friendly. There is always an option to color it, which will make it look more presentable.
A fence can make an unforgettable first impression of the house. The main reason why fences are preferred by people is due to the privacy it secures. Therefore, this can provide you a really good result, without costing too much.
2. A landscape walkway is a game-changer
Something as simple as a walkway can arouse curiosity in people. It is another easy way to increase the property value. Additionally, you can build it with contrasting rocks (big and small) or red bricks. This method will result in a high-end look and create a natural atmosphere.
Giving special attention to the walkway can be both stylish and helpful for the visitors. They won't have to walk on the grass or soil. Plus, this step will set high expectations for the property's worth.
3. Nurturing & trimming the lawn is a low-maintenance landscaping option
Nurturing and trimming the lawn sounds like a small backyard landscaping idea, but simply being clean and neat is already a big step towards increasing the property value. Having freshly nice cut grass in the garden is the best way to gain somebody's respect.
Lawn care shows how much the owner cares about the property, which sets expectations for others as well. Thus, taking good care of the backyard is a small, yet very noticeable step. Experts have conducted a survey, based on which 63% of the respondents preferred to live in an area that has good green spaces.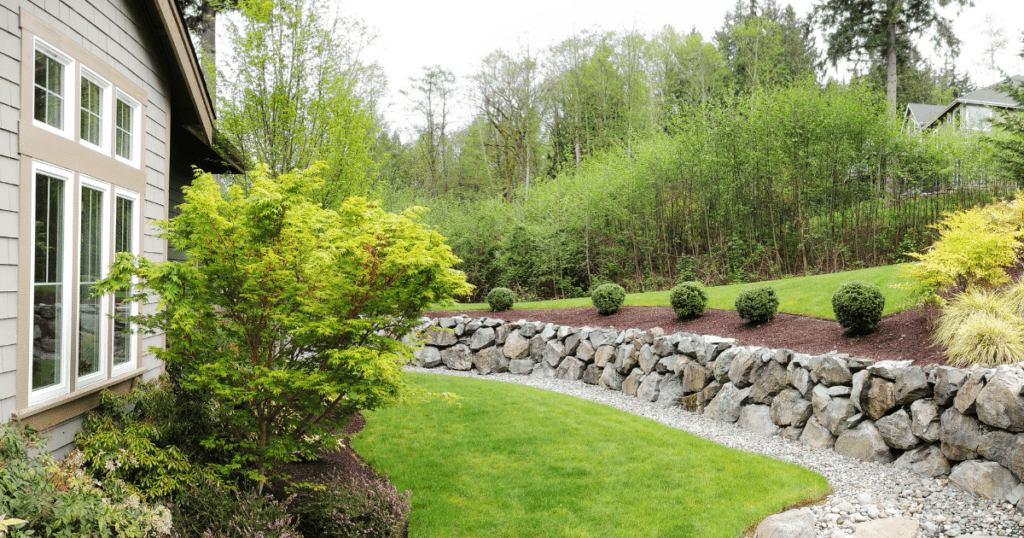 4. Bushes/plants are easy & affordable
Another low-cost landscaping idea is cutting bushes and plants around the yard. Only a few details can boost property prices largely because small elements can elevate the overall look of the house. Consequently, this is a better option than changing big parts of the property.
Moreover, plants are very affordable. Therefore, it is a good option to place a few in the garden to make it look more organized. In this way, the house will have a fresh look and attract people's attention.
5. Different Kinds of Trees for high house worth
Planting trees or other seeds is yet another simple landscaping idea, which is one of the best ways to increase the property value. It demonstrates diligence because taking care of the garden or having sowings is really hard work. People automatically will sympathize with the house if it is nicely nurtured.
However, you should first consider that the value of a specific type of tree depends on different variables. Based on the listed factors in the formula by the Council of Tree & Landscape Appraisers, you can estimate the value certain trees will bring to your house.
6. Mini statues/small fountains create a nice atmosphere
Adding mini statues or small fountains is by far one of the fastest steps for changing house worth. It is as easy as ordering a small affordable statue and placing it somewhere in the yard. This can transform the look and price of the house.
Some people don't consider statues the best item to have in the yard, therefore, a more creative approach can be considered a small fountain. In reality, a tiny fountain can cost around 100 USD, but increase the property value up to 10 times. That is the main reason this step is highly recommended by many experts.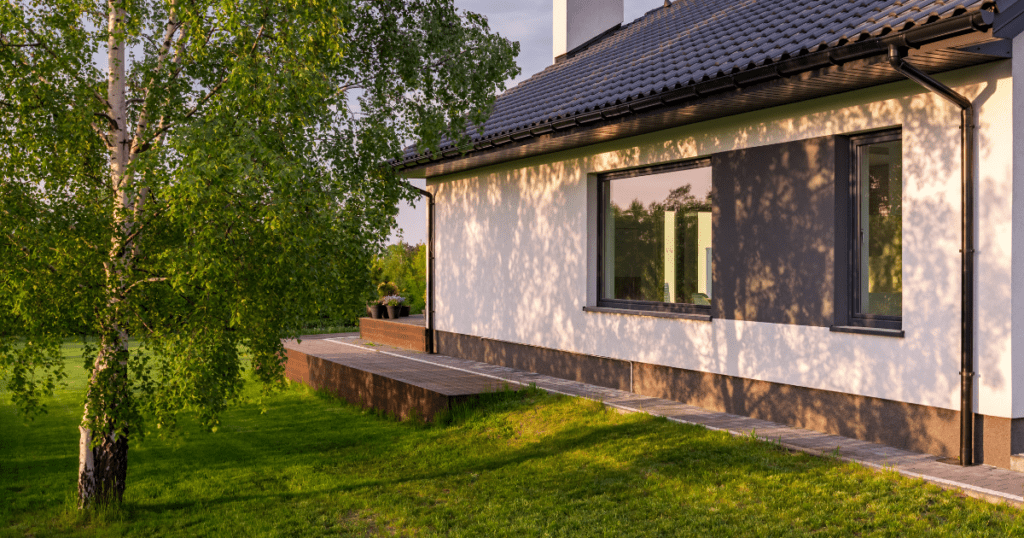 7. Lighting & decorations transform the house
A correctly planned lighting system and decorations are some of the most important factors considered while thinking of the property value. Research shows that paying enough attention to this aspect can increase the value by 20%.
Besides the overall visual appeal, this option is also very beneficial. Considering LED lights is an energy-efficient choice, which is an important factor to remember while purchasing a property. Therefore, the house will both look wonderful and leave others impressed.
8. Affordable patio & deck flooring change everything
People also pay attention to what is beneath their feet. The comfort of the ground is an unspoken yet crucial element. Flooring can have some unique solutions. There are some affordable patio & deck floor options.
Besides, it's a perfect fit for a backyard. Also, it can be designed in black and white stone flooring. Meanwhile, a deck floor isn't made specifically for yards, but it is a good option due to its supporting system. Both will increase property value remarkably.
9. Unique outdoor areas boost home price
Adding a unique outdoor area is one of the most creative ways to increase the house value. People love spending some quality time outside, which is why this area is a very important element. In this case, there are different ideas you can realize that will work effectively:
For instance, an outdoor bar can make anyone want to live in that house. It doesn't require a lot of expenses, but it surely will grow the house's worth. All this area needs are high affordable chairs and a bar counter.
Another example can be an outdoor barbecue (BBQ) stand or a play area with table tennis. All are inexpensive and helpful ideas.
The point is to have a separate place for spending time outdoors. This is what people love the most, which is why this step is effective.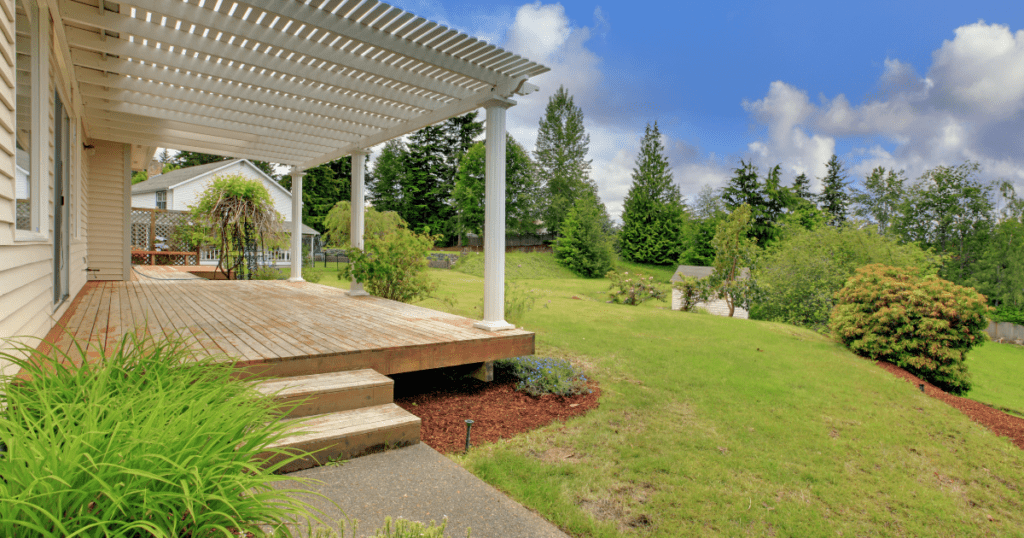 10. Color-oriented focal points attract visitors
A focal point is an area that can lead the visitor's viewing point. Thus, according to professionals a pop of color on the wall or throughout the garden will grab attention and be a remarkable detail to remember. For instance, if you hang a vivid painting or another piece of art on the wall, it can interest people.
A balance between a classical look and some burst of color can be very complimentary to the eye. Therefore, this can increase the property's worth due to its pleasant style.
11. Floral decorations help to transform the house
A floral wall is a very aesthetically pleasing element to have. It can dress up the house and make it look much more interesting than a plain, naked wall. Therefore, this will impress and fascinate people, which can impact the price of the house notably.
Flowers are a very affordable landscaping idea. It surely will make it look like there is more to it than just decorations. Besides, it will shift the standards of what a house should look like. Overall, there are different affordable options that will guarantee the best results in boosting the house's worth. Do not hesitate, instead contact us, and we will give valuable advice and ideas that will be the most effective. We are here to help raise the property's value with plenty of diverse solutions.